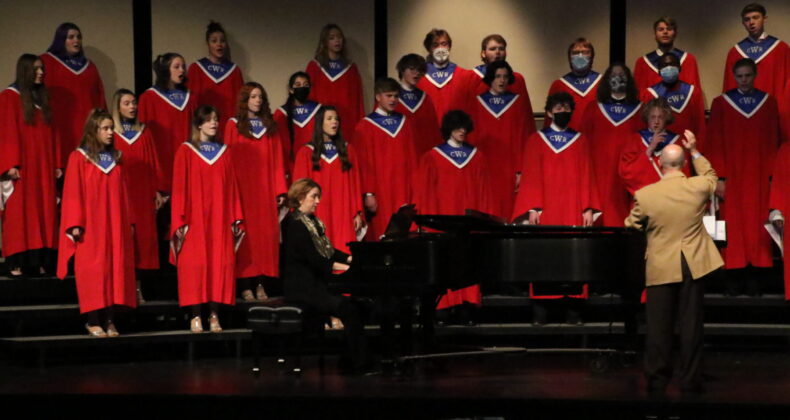 Washington High School has eight choral ensembles, including three show choirs.
As the beginning mixed choral ensemble at Washington, Washington singers emphasize the basics of choral singing through sectionals, sight reading, solfege, solo singing, while having a lot of fun. Washington singers participates in three concerts and state large group festival throughout the year.
Concert chorale
Concert chorale is one of eight choral ensembles at Washington. Composed of sophomores, juniors, and seniors, concert chorale performs more complex choral literature while growing as individual and ensemble singers. This ensemble participates in three concerts and state large group festival throughout the year.
Concert choir
Concert choir is composed of juniors and seniors at Washington high School. Concert choir performs very high level mixed choral literature and has received the highest rating at state large group festival for the past eight years. Throughout the year, concert choir participates in three concerts and state large group festival.
Madrigal singers
Madrigal singers is an extremely select ensemble that specializes in renaissance madrigals and chamber music of every era. Madrigal singers perform at school concerts, assemblies, and many community events each year. The madrigal singers have a long tradition of performing holiday music to many audiences and performs over 20 concerts in December.
Slice of jazz
A select ensemble of 16 voices, Slice can often be found singing with their outstanding rhythm section or with Washington's Revolutionists jazz band on special occasions. Slice regularly performs at school and community events in addition to educational jazz festivals and workshops. Slice has a proud history of success, including extremely high finishes at the Iowa Jazz Choir Championships each year and a performance at the national convention of the American Choral Directors Association in Chicago.
Vivace show choir
Vivace is a ninth and 10th grade show choir at Washington High School. The group contains future members of the eight choral ensembles at Washington. Named ninth grade champions in recent years at Onalaska, Johnston, Linn Mar, Prairie, and Kennedy show choir competitions, Vivace strives to stay in the Washington show choir tradition of exciting singing and dancing.
Vivace is directed by Peter Westphalen and Amy Farley, assisted by Jay Burken. Back-up band is directed by Ben Schmidt and choreographed by Jay Burken and Michael Weaver.
Celebration show choir
Celebration is one of three show choirs and eight curricular choirs at Washington High School. With seniors, juniors, and sophomores participating, Celebration is the junior varsity show choir at Washington.
Celebration is directed by Amy Farley and Peter Westphalen. Back-up band is directed by Ben Schmidt, and the choreographers are Kevin Chase, Jay Burken, and Michael Weaver.
Momentum show choir
Momentum participates in a full schedule of holiday and spring appearances, and performs for school events and concerts and competes in show choir nationals in Nashville, TN, every other year. Momentum is directed by Peter Westphalen and Amy Farley, choreographed by Michael Weaver. The back-up band is directed by Ben Schmidt.
All Momentum members participate in at least one other choir.
---
Choir frequently asked questions
I'm a freshman. What class should I register for?

All freshmen who want to participate in Washington singers should register for "High School Singers."
How can I participate in Vivace?

You can participate in this show choir by auditioning. We will be sending audition information to your middle school choir director in the spring, and are planning on holding auditions at your middle school during the school day. You will register for "Show Choir C." You must be registered for "High School Singers" as well in order to be in the Vivace show choir.
Do choir/show choirs meet at the same time as band or orchestra? Can I do both?

They do not meet at the same time. You can do both!
I'm worried about doing choir/show choir and sports. Is this possible?

Sure is! We have starting football players and basketball players, top golfers, and champion swimmers!
What about choir/show choir and advanced classes/languages?

Yes! The top students in the school are also involved in the music department.
What if I try high school choir/show choir and I don't like it?

You're going to love it—give it a try first! But if you don't, you're not committing for all four of your high school years.
I didn't do vocal music in middle school. Can I still sing in high school? Am I too far behind?

Of course you can sing in high school! We work hard to catch everyone up, no matter where they begin. It is never too late to start singing!
I asked my counselor some of these questions and they had different answers than you. Why?

Counselors have a huge job and can't possibly know all the details of every program up at the high school. They are giving you great advice based on what they know. But when it comes to making music work for kids in high school, the directors are the experts! We will be honest with you about your situation and the benefits and challenges of being a high school musician.
---
Key Contacts